What areas do you service?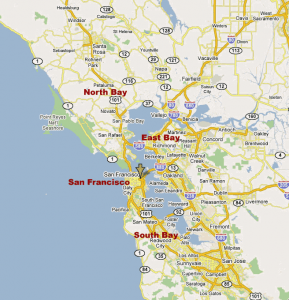 HomeCare Referral Agency™ services the following cities in the East Bay Area – Vallejo, Martinez, Concord, Richmond, Oakland, Lafayette, Milpitas, Fremont, Newark, Union City, Hayward, Sunol, Pleasanton, Castro Valley, Livermore, San Jose, Santa Clara, Danville, Pleasant Hill, Walnut Creek, Berkley, San Ramon – please click on the map to see a larger view
When do you clean?
Our Agencies office hours of operation are Monday thru Friday 8:00 a.m. – 4:30 p.m.   Our contractors each set their own hours Monday through Friday for recurring jobs. Saturdays are available by request for only for non recurring jobs, we charge a higher fee for Saturday work and have a minimum fee for any job booked. We keep our prices low by minimizing non-productive time between jobs therefore our contractors are only scheduled for the jobs that are confirmed by 6 p.m. the night before. Our scheduling is dependent upon how many customers we have booked for any given day. If calling to schedule a cleaning where you are redeeming a gift certificate please be advised that you may have to schedule your cleaning several weeks in advance so plan ahead.
Do we have to be home when you clean?
The majority of our clients provide us with keys to their homes, however if you choose to be home while we clean you are welcome to do so. We understand that you may prefer to get to know our contractors prior to allowing them to work on their own.
How do you handle keys that are given to you to retain?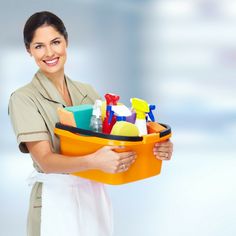 If you chose to provide us with keys to your home rest assured that we take the utmost care in protecting both your key and your home, Keys are numbered and never have names attached to them. They are only issued the day of your cleaning and are checked back in to be deposited into our safe daily. If you choose not to provide a key, lock boxes are, in our opinion; the next best solution for key control. Please be advised that due to the fact that we can only give approximate times for arrival, If we arrive and are unable to gain access to your home or business you risk being charged full rate for the lock out if we do not have a key or access to the property.
How many people will come to clean my home?
Depending on the home and your needs, our contractors can work individually, or in teams of 2 normally, occasionally teams of 3 can be assembled for very large jobs. Remember though if you are paying per hour the hourly rate is "per person – per hour"
Are you insured?
Yes, the majority of our contractors are insured for your protection and peace of mind. As part of our vetting each contractor who is insured must provide proof of insurance to our agency and list us as a certificate holder so that we are notified if their insurance lapses and we will in turn notify you.  We do have some contractors who are not insured and we charge significantly less per hour for their service for them if you're willing to assume the risks.   
What does it mean to be bonded? What exactly is bonding?
This is a question that gets asked a lot. Bonding is an inexpensive form of insurance that pays out if there is a theft of personal belongings. Unfortunately there are several catches to bonding – 1) in order to pay out on any loss the insurance company requires that there is a prosecution of the party responsible for the theft, 2) Then the insurance company will only pay off if the item(s) stolen are not recovered or cannot be re-cooped financially from the person who was prosecuted. Therefore, under those terms the insurance company that holds the bond rarely pays out in any form of damages to the person or company who claims the loss.
What if some thing is damaged while my home is being cleaned?
Please keep in mind that accidents do sometimes happen. Each contractor will make every attempt to treat your home with the utmost of care and caution. If however they break something they will leave the item and a note for you & they will make arrangements to replace the item or to pay for it. Please note – if you have items that are of extreme value, either sentimental or monetary, they would prefer that those items are identified and that they not to clean these items. Our contractors will not to clean plasma screens, computer equipment or other expensive electronic equipment that can be damaged easily. Too, they cannot be responsible for items that were previously damaged prior to their cleaning, improperly constructed, or are not fastened in a proper way as they have no control over those situations.
Do I have to do anything before you come to clean my home?
It is advantageous to have the home picked up as much as possible allowing your contractor to be able to get to all areas so that they can optimize your cleaning. If they have to spend a lot of time picking items up and putting them in their place prior to cleaning you may be billed for the extra time needed to do so or another area of your home may be skipped to make up for the time needed to pick up in order to clean. Unless agreed upon in advance surfaces found with excessive clutter that would potentially result in damage or breakage can be skipped at the cleaner's discretion.
Do you guarantee your work?
Our contractors strive to please all of their customers to the best of their abilities, however sometimes things don't go as planned, if you contact the agency with your concerns within 24 hours of your cleaning we will ask the contractor to work with you to resolve any problems you may have.  If in the event that you find that you for any reason you cannot work with any contractor, please let the agency know as soon as possible so we can find a replacement contractor for you.
I have allergies or am conscience of the environment, what can you do for me?
Our contractors can use only Green products that are safe for the environment. They can customize cleanings to take into account any allergies and sensitivities.
How do I pay for my services?
Payment is expected at the time of the cleaning. We do for your convenience offer a monthly billing program where services are prepaid. We accept cash, checks and credit cards for your convenience.
Do you offer any discount programs?
We do offer 5% off for the monthly "pre-paid" billing program. We also have a referral program where you are given money off of your cleaning for each referral that turns into a job for us. We offer other specials thru out the year; please check with us from time to time to see what specials are available.
I have pets, what do I do with them when the cleaner is present?
We are of a firm belief that family pets are just like children, most contractors enjoy working with them. If however your pet is afraid of vacuums or are unruly and will not allow our contractors to do their work we may suggest that they be placed in areas that are not being worked in.
What if I do not need my whole home cleaned?
Keep in mind that we do have a 2 hour minimum for any week day job and a 3 hour minimum for any Saturday job, past that we can work with you to customize your cleanings to your needs. We have customers who have their whole home cleaned on a bi-weekly basis then have us come for just the bathrooms and kitchen on the opposite weeks. Tell us your needs and we will find a way to work them out for you.